Professor I.A. Adeyemi FAS
Vice Chancellor Bells University of Technology
Ota Ogun State Nigeria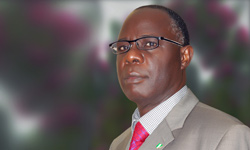 Professor Isaac. Adebayo. Adeyemi,(Ph.D. Leeds) FAS is the Vice Chancellor of Bells University of Technology Ota, Ogun State, Nigeria.
His tenure has been marked by a university that has grown faster than ever in terms of prospective student interest and a growing increase in the overall acceptance of the University at the international front.

His deep understanding of the importance of quality education in the field of renewable energy technology and its gains in the development of Africa facilitated the decision to partner with his institution in the establishment of the Renewable Energy Centre for Africa in Bells University of Technology.